About the Project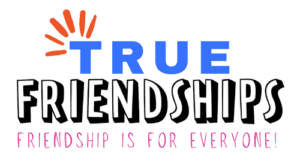 Values Into Action PA was awarded the Authentic Friendships grant by the PA Developmental Disabilities Council. We are calling this the "True Friendships Project".
The True Friendships Project hopes to make it easier for people with disabilities to make and keep friends. The True Friendships Project is focused on creating opportunity and capacity for friendships for all.
The True Friendships Project is led by the Project Advisory Workgroup (PAW) that includes people with disabilities, family members and professionals in the disability community. Robert Zotynia, Self-Advocate and Kristina "Tina" Steinbacher are the Project Coordinators who oversee the Project Advisory Workgroup.
The PAW is open for people to join us! You can share your contact information here and Robert and Tina will contact you with details.
Project Partners
Open Future Learning,
PA Education for All Coalition (PEAC),
Disability Pride PA,
The Institute on Disabilities at Temple University
Get Involved
We are asking for people to complete a survey on friendships. Your responses will help us to create Learning Sessions to help create capacity for making and keeping friends.
We are hosting Listening Sessions to learn about people's experiences with friendships. You are invited to join us and share your experiences!
Listening Session 3: September 20th 2:00pm – 3:30pm For People with Disabilities – Registration Link
Listening Session 4: October 4th 3:00pm – 4:30pm For Anyone with feedback about friendship – Registration Link
We are also creating a Relationship Resource Guide that will soon be made public. You are invited to submit resources that you find useful for meeting and making friends.
Coming in 2024:
Learning Sessions! We will be hosting online webinars on how to make and keep friends during 2024. Stay tuned for the schedule of dates.
Photo attributed to Disabled And Here project. Photo was taken by Chona Kasinger.