Each year, the Office of Developmental Programs qualified service providers (that's us!) are required to take part in formal waiver monitorings and licensing reviews. These controls are designed to make sure that people with disabilities are getting services that meet standards, and should result in people having opportunities and support to live Everyday Lives.
This past week, Values Into Action took part in the annual Chapter 6400 Community Homes Licensing Review. The focus is on safety and wellness of people supported and their staff. We also took part in the full Quality Assurance & Improvement Review, which seeks to the same outcome, health and wellness of people and staff. Both is these reviews look at our policies and procedures to make sure they reflect ODP standards, and state and federal regulations. This is confirmed by sampling a number of people using our services.
For many organizations and professionals in our system, inspections and reviews can be scary and stressful times. Often, they result in extensive corrective action plans. This stress can be further compounded when the reviews overlap, as was the case with us this year. Despite having the reviews in the same (holiday!) week, that was not our experience. We are happy to report that we came through the reviews with lower than usual stress on our organization. We also came through with little need for corrective action. This is an example of yet another way we are different from other disability service providers.
Want to know how we do it?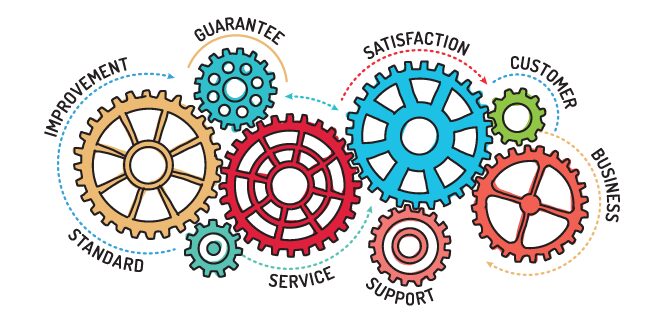 First, we do right by people we support every day.
That means helping people we support to care for themselves, their home, their health and wellness, and get out to do the things they want to do, with the people they want to spend time with, as often as they want. Our support is tailored to the person's needs, and for some people, these things happen every day. We recognize that the regulations we must abide by are the baseline, and we strive to exceed expectations. We are not perfect. We seek out and are open to constructive feedback. We regularly evaluate and improve our practices in partnership with the people we support and their supporters.
Next, we have systems in place that are user friendly (well, we try!) and are accessible to everyone (again, we try and work to make them easier for anyone to understand)
The annual review process can be a beast if systems are not in place to ensure compliance with standards throughout the year. We are accountable to our funders and to the people who use our services. We show this accountability by putting time and energy into ongoing quality assurance and improvement. With this constant care and attention, come review time, we are double checking our work, rather than starting from scratch.
Finally, we approach the review process as a learning opportunity.
We recognize that there is always more to learn. Policies and requirements change often. We work to adapt proactively. One way we do this is by paying attention to what is important to people with disabilities and to the Office of Developmental Programs. Ongoing, we use that information to update our policies and practices before it's required. With that, we welcome feedback on our efforts. After all, our goal is to be the best service provider we can be for the people who choose to partner with us for their services.
This is not a recipe for perfection. Rather, a quest for continuous improvement. Here at Values Into Action, we are on that quest together with people using our services leading the way.